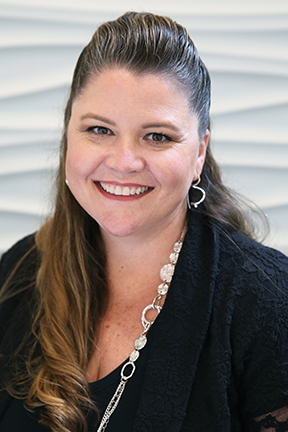 Victoria is our New Patient Coordinator, and has the gift of immediately making our new guests feel at home. She is a pro at working with new patients, explaining the many aspects of treatment, setting up treatment appointments, and generally being the "best friend" of our new patients.
Victoria has a wacky sense of humor and is clearly a "people person." She loves getting to know new people and we are certain that you will come to rely upon Victoria the way we do.
Victoria joined our office in 1997 as a talented and cheerful chairside assistant, but she's really thrived in her position of New Patient Coordinator.
Victoria says she most enjoys the support from and high morale of our entire team. She is a good joke teller and loves to laugh in and out of the office. She lives in Watsonville with her husband and their children Keiran and Amelia. They enjoy traveling whenever they have a chance. You might see Victoria and the kids hiking/biking through Nisene Marks or playing at the beach; their favorite local activities.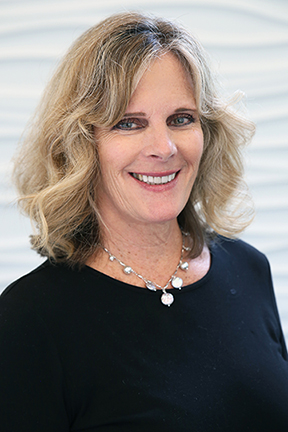 The minute you walk through the door of our office, you will be greeted by Carol's cheerful smile. Carol joined our practice as our lead Scheduling Coordinator in January of 2000 and brings over 20 years of experience in dentistry and excellent patient care to her position. Carol's background in dentistry makes her a perfect fit! Having had braces in our office as an adult, Carol helps you understand the benefits of orthodontics at any age.
Carol and her husband, Randy, have two beautiful daughters, Amanda and Lisa. Carol became a grandmother in 2015 to their grandson, Henry, and again in 2020 to their second grandson, Walker.  Their family enjoys spending time together in the outdoors and exploring in their motorhome.  Carol enjoys going on walks with her pug dog family, Tily, Rocco and Vader. One day, Carol hopes to foster dogs and place them in their forever homes.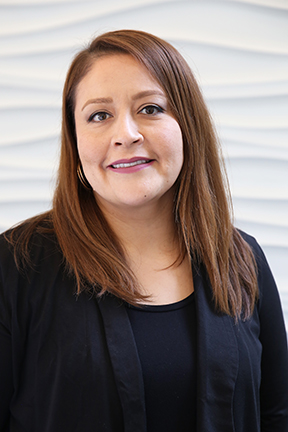 Esmeralda joined our office in 2002 and has been in orthodontics since 2000. As one of our chairside assistants, she does a fantastic job making our patients feel welcome and quite at ease. Because of her outgoing personality, great smile and a wry sense of humor she blends perfectly into her role of working with many different patients throughout the day.
Esmeralda enjoys spending time with her husband, Tyrone, their beautiful children Mary and Emilio. Her hobbies include time in Hawaii, beach activities with her kids, movies, and being a mom.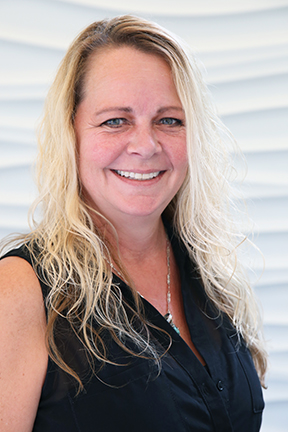 Sally started working in our practice in the mid 1990's. A warm and caring chairside assistant, Sally makes you feel comfortable the moment you sit down. Her smile and exuberant laugh make her an easy favorite among patients.
Sally lives in Aptos and loves spending time with family, especially her grandchildren. You can often find her playing golf and enjoying time at the beach.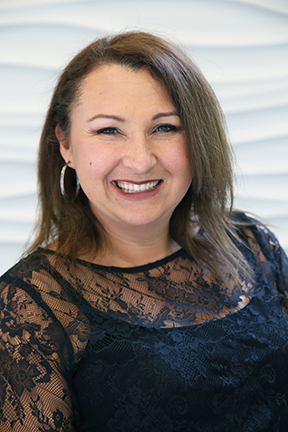 Monica joined our team in July of 2000. She works in our lab and clinic as a Laboratory and Sterilization Technician and as the chairside assistants' assistant. Because of her thorough and careful attitude she is a great asset to our office.
Monica and her husband, Jose, have two awesome kids, Lesley and Raymond. Together, they love horse shows, walks on the beach, and the many celebrations that come with a big family. We are proud to have Monica's warm and charming personality on our outstanding team.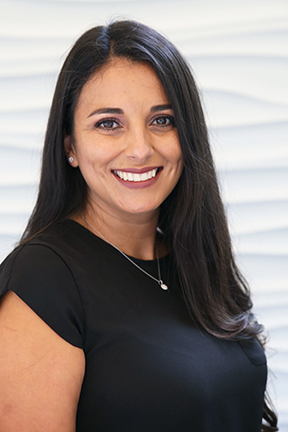 Rosa is our chairside assistant and overall team player when it comes to moving into new job positions. Like Sally, Rosa was on our team a few years ago (started in 1996), moved away, then came back and rejoined us in 2009!
Rosa enjoys spending time with her husband, step-son and many nieces and nephews. Together, they have fun, camping, going to the beach and movies. Rosa has a great work ethic, a fun sense of humor and a beautiful smile!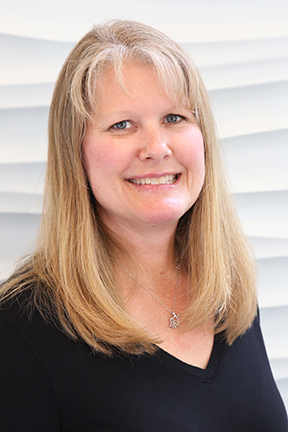 We are so happy to welcome Vicki to our team! Vicki hung around here as a mom of 2 patients before joining our team and we knew she would be a great fit as one of our scheduling coordinators. Vicki is a Santa Cruz native and enjoys watching her kids score on the soccer field. Vicki is very much a family oriented person and the 4 pack (Vicki, husband Michael, son Brett and daughter Natalie) are a 6 pack with 2 Siberian huskies. Vicki and her husband have adopted & rescued huskies for a couple of decades now. You'll likely see Vicki on the beach or pass her on our many hiking trails in the forest.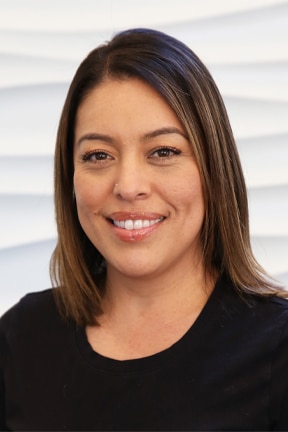 Brenda is an amazing and talented records technician with 15 years of experience in the dental field prior to joining our team in 2022. We're delighted to have such an easy-going, family oriented person take care of our patients. When Brenda, a lifelong Santa Cruz resident (and Santa Cruz High grad) isn't delivering stellar visits to our patients, she enjoys being with her family. She and her husband have 2 beautiful kids, Adrian and Aubrey, and together they love to explore our beaches, collect sea glass, watch movies, and cheer for the Dallas Cowboys!
Rosila joined our team in 2021 and comes to us with 23 years of orthodontic experience; she also worked along side Esme and Alicia in the 90's. Rosila has a very calm, observant personality and is happy to be the quiet, kind assistant to our guests. We love Rosila's big smile and attention to detail. She's quite handy as our records technician and lab assistant. Rosila enjoys being with her teenaged kids, Vanessa and Danny and her husband. In her free time, she enjoys going on walks and watching movies.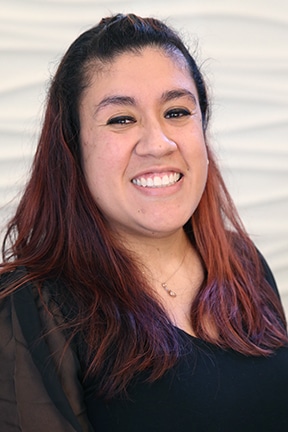 We are so happy to welcome Lorena to our team! Lorena comes to us with 21 years of amazing assisting skills and is a delight to work with. Lorena is a local gal and a graduate of Harbor High – Go Pirates!
We have already enjoyed many of Lorena's words of wisdom and positive outlook in life, you'll be lucky to have her as your assistant and get some of her "Lorena-isms" too. You'll find her engaging, knowledgeable and an expert at offering a hand when she sees a need – she's certainly earned her spot as a dream team member. We look forward to the next 18+ years of Lorena's career being here on Team Hulme!
When Lorena isn't being awesome at our office, she's awesome out in our community. Lorena has been an avid kick boxing instructor, enjoys running and shares a passion of all things Disney with her fiancé, Isaiah. Together, they enjoy trips to Disneyland whenever they can get time off together and adventures with their sweet Chihuahua, Nala.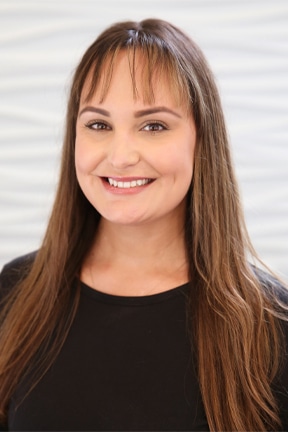 Jessica is our newest team-member, joining us in 2022. We know you will come to love Jessica's presence as a fantastic scheduling coordinator. Jessica is warm, kind and has a great laugh; and she grew up with one of Carol's daughters! We look forward to teaching Jessica the ropes in orthodontics, since she comes to us from a naturopathic office.  Jessica's a proud mom of a cool dude named Jai, and together they love movies, adventuring around town and their awesome, supportive family.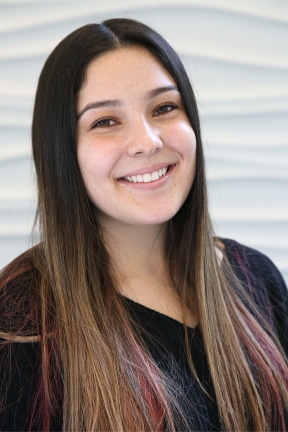 Bella is our super smart 3-D printing expert and lab assistant. Bella was a patient here as a teenager and was an obvious choice to join our team in 2019. We knew we needed a detail-oriented person to take on the hi-tech world and she's the best we could ask for! We love her bright smile, willingness to jump in and help anyone at any time. Bella enjoys time with her family, and you wouldn't believe it if you met her- but she loves daring adventures, and looks forward to sky diving in the near future.